by Brooke Anglin
One of the first things I heard when I arrive at AltiumLive last week was was how much they loved the recap of the event my colleague Chelsey Drysdale wrote last year. They added that Chelsey truly captured what AltiumLive is about. Talk about pressure!
Let's start at the beginning.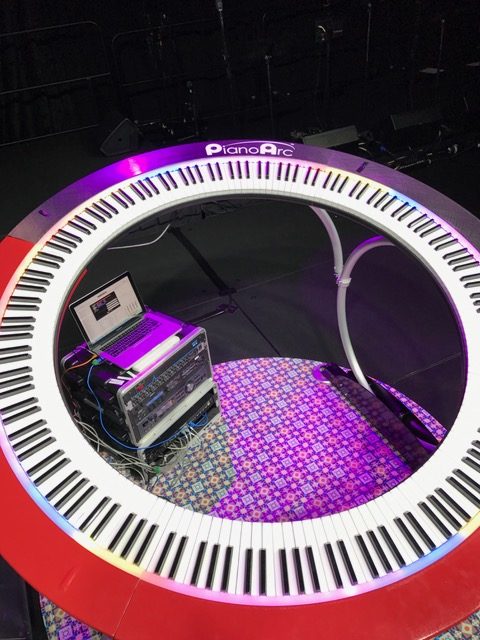 Drinks are on Them. The week (well, three days, but they really pack a lot in!) kicked off with a great reception on an outside terrace at the Loews Coronado Bay Resort.  Dave Starkey, the engineer who designed and built the Piano Arc — the circular piano used by Lady Gaga's pianist, among others — was there. So was the pianist. They displayed the unit, a 360-degree custom keyboard, with one of the panels removed, exposing the PCBs.  Altium director of community engagement Judy Warner met Dave at a user group meeting in San Diego, heard his story and recruited him for the event.  In case anyone wants to know the piano has 288 keys, a total of 12 circuit boards and only cost $57,000.
I saw our customary PCB West speakers Suzy Webb, Rick Hartley, Gary Ferrari and Eric Bogatin and met a lot of engineers.
Getting Younger. One of the things you note about AltiumLive is the demographics. It's a younger crowd than you typically see at industry events. Eric Bogatin noted this in the first keynote (AltiumLive had not one, not two but three keynotes). He brought some of his students, had them stand up for recognition and encouraged hiring companies to talk to them.  That drew a good laugh from the crowd.  In his talk, he pointed out that while many designers will be retiring in the next 10 years, AltiumLive gives us reason to think a new generation is coming on strong.
Keynote #2 featured a celebrity from outside our industry. Jor Grand of Grand Idea Studio has a short-lived TV show called Prototype This! on the Discovery channel. The concept, which was similar to Mythbusters, was about the viability of gadgets and technology and how engineers feel a since of winning when a product doesn't work the first time, but they don't give up until their creation finally works successfully.  While the show lasted only one season, Grand shared several clips and generated lots of laughs.
Finally, the main event: Altium rolled out its much-anticipated Altium Designer 20 ECAD. VP of marketing Lawrence Romine detailed the new "push and shove" capabilities that enable routing of complex HDI boards and ramp up design times over 20%. (For more on the tool, click here.)
Cloud in their Eyes. This was the third year of AltiumLive, and the multi-city event (another is being held in Frankfurt this week) draws 500 designers. The company grow is equally impressive. Last year 2018 Altium saw over 8,000 new users for its Designer PCB CAD tool, and on average Altium users do over 10 designs a year.
Looking ahead, Altium wants to move toward the cloud, something the industry has been avoiding for years. Its has added real-time collaboration, and hopes to bridge the gap between manufacturers and designers.
Not surprisingly then, AltiumLive focused as much on tomorrow as on today. The highlight of the event was the Robot Build and Battle. Attendees split into teams of six or more. Ours had nine; eight engineers, from all of the country, and me. I was cheerleader, motivator and general handyperson. (They said I sounded like each of their bosses … I beg to differ!) Team Sierra beat last year's record, but we weren't far behind.  Amit Bahl of Sierra Circuits told me he didn't realize just how geeky our industry was until the robot build. Such a fun and educational event!
Brooke Anglin is senior sales associate with PCD&F/CIRCUITS ASSEMBLY.