A colleague asks whether companies are looking at India as a country they can source electronics goods.
Good question. I would say that right now it's not high on the list. It has a long way to go to develop the infrastructure and mass of supply chain companies dedicated to electronics (component manufacturers, laminate suppliers, chemistry suppliers, etc.). 
But … the bloom is way, way off the rose in China. China is less attractive from a labor rate perspective, and coupled with the tariffs, firms were already looking at alternatives even prior to Covid. See below for the year-over-year changes in electronics imports to the US from certain nations: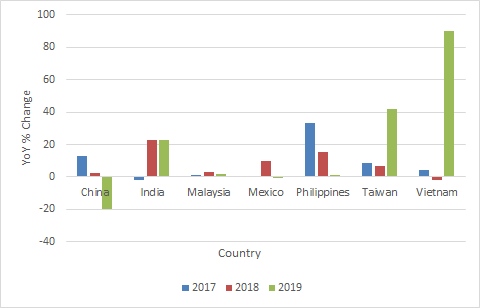 India's electronics imports to the US grew 20%+ year-over-year in back-to-back years. Granted, it was starting from a low base: imports in 2016 (the base year) were just $754 million, and so even with the increase the total is just over $1.1 billion. Vietnam, another big gainer, is at now at $22.7 billion. China, even with the dip in 2019, was at $170 billion.
I do think US companies will to a greater degree be looking at nations outside China as potential manufacturing centers. India's massive population continues to make it attractive of course. Now it needs to attract a few more assembly companies, which in turn will drive the suppliers to locate there.